Case Studies
LISTER HOSPITAL
Site Details: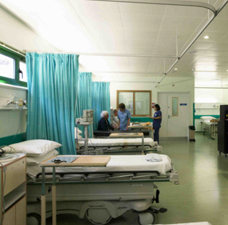 All hospitals are required to monitor water which is supplied to their patients to ensure that the contents are free from harmful bacteria and organisms such as Legionella, E-coli, Coliforms and Pseudomonas.
The aim of the project undertaken by Lakeside was to analyse over 50 sample points at the hospital. This was done once a month in order to monitor for the presence of Microbiological organisms and, if required, cleanse and retest the water systems to ensure public safety.
The samples were transported to Severn Trent Services using our dedicated refrigerated transport service to ensure that the samples arrive at our Coventry laboratory at ambient conditions in line with sample stability. This ensures that the analysis reported is accredited to UKAS 17025 to give additional confidence in the data provided.
Contractor: Lakeside
Project length: 9-months
Location: Stevenage
Samples: Over 50 per month
Analytical Testing Requirements:
Severn Trent Services were approached to undertake the analysis of samples from Lister Hospital due to our reputation and expertise for dealing with significant microbiological projects. The analysis undertaken consisted of:
TVC 22C
TVC 37C
E-coli
Coliforms
Pseudomonas Aeurginosa
Pseudomonas Species
Our Micro Notification system automatically notified Lakeside of any high counts or presumed positives for Legionella. The data was also reported on our dataview system allowing Lakeside to monitor the results online and take action as required.