Water Softeners
Lakeside water provide Commercial and Industrial water treatment systems including water softeners, clean water purification systems, tailored side stream filtration packages and water recycling solutions.
We aim to survey, design and build to meet client specific needs and can supply standalone equipment or fully integrated plant with high quality products, Lakeside engineers offer efficient after sales service and are fully trained in all aspects of specialist products travelling nationally to support the client network. We specialise in turnkey projects.
With many years working with commercial and industrial clients, we have drawn on our experience and knowledge to offer a one stop shop for all of your water system needs.
Lakeside Commercial Water Softeners use ion exchange resin technology to softener the mains water. A water softener basically consists of a vessel with ion exchange resin inside connected to a brine tank for salt solution and a highly reliable control valve, there are different types of softeners including simplex, duplex and triplex systems dependent upon your requirements.
The water softener will usually be installed on the rising main to service the whole water system with the exception of drinking water.
Lakeside water softener systems are individually sized to provide soft water benefits.
Reduce scale and reduce the risks of legionella.
Money Saving - Reducing limescale deposits will lead to descaling existing pipework, also reducing limescale will result in improved efficiency and storage of hot water and heating systems.
By Installing Water Softener Equipment stop Scale Build Up in Steam Boilers/ Calorifiers & Cooling Systems stop Scale Build Up in other water using appliances. Longer appliance life.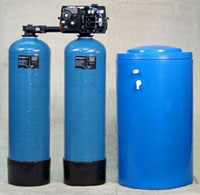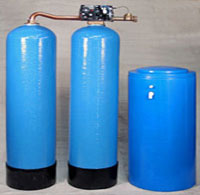 Other Commercial Products
Dosage and control equipment
A full range of electronic dosing pumps
A full range of steam boiler dosing and control systems including sample coolers
A full range of cooling water control equipment to fully automate dosing of inhibitors, biocides and bleed off
Closed systems dosing pots
Chlorine dioxide dosing systems
Pre-treatment Plant
Reverse osmosis purifiers
Dealk and demineralisation systems
Filters of various types for a variety of applications including cooling system filters
Closed system side stream filtration
Testing Equipment, Salt & Chemicals
A full range of chemical testing equipment and reagents for water treatment monitoring
A full range of boiler water treatment chemicals
A full range of cooling water treatment chemicals
A selection of closed heating and chiller system chemicals
Chemicals for pre-commissioning cleaning
Resin treatments for pre-treatment plants
Please feel free to contact us to discuss your requirements.