Side Stream Filtration
Lakeside supply a range of side stream filtration systems which incorporate cyclone separators, which are used for the removal of heavy particles with a gravity in the range of 2.2 to 2.8, they are designed for the removal or rust and corrosion products and are widely used for cleaning closed circuit heating systems and other systems that are affected by solids ingress.
Side stream filtration is used widely because of ease of use and reliability, systems can be added to existing equipment to alleviate problems which other systems have been unable to resolve.
Side stream works by allowing the water and solids to enter the unit which creates a centrifugal flow, during this flow process the solids attach themselves to the sides of the separator, the solids slowly drop to the collection chamber and the clean water is drawn to the outlet. Solids can be removed manually or automatically from the side stream system allowing more solids to be cleaned from the system.
Our standard ranges of systems are up to 3 inch pipework however we can cater for system requirements up to 8 inch pipework.
Lakeside can offer full commercial and industrial systems with auto flushing, alarms and monitors. We aim to survey, design and build to meet client specific needs and can supply standalone equipment or fully integrated plant with high quality products, Lakeside engineers offer efficient after sales service and are fully trained in all aspects of specialist products travelling nationally to support the client network. We specialise in turnkey projects.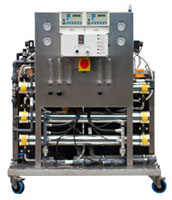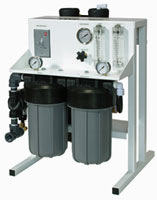 Other Commercial Products
Dosage and control equipment
A full range of electronic dosing pumps
A full range of steam boiler dosing and control systems including sample coolers
A full range of cooling water control equipment to fully automate dosing of inhibitors, biocides and bleed off
Closed systems dosing pots
Chlorine dioxide dosing systems
Pre-treatment Plant
Water Softeners
Filtration & Reverse Osmosis Systems
Dealk & Demineralisation systems
Testing equipment, Salt & Chemicals
A full range of chemical testing equipment and reagents for water treatment monitoring
A full range of boiler water treatment chemicals
A full range of cooling water treatment chemicals
A selection of closed heating and chiller system chemicals
Chemicals for pre-commissioning cleaning
Resin treatments for pre-treatment plants
Please feel free to contact us to discuss your requirements.